Are you in the process of selecting residential fencing options for your property but feeling overwhelmed by the choices available?
We understand that navigating through a sea of residential fencing options can be daunting, but the time invested in research before making a decision is crucial.
In this blog post, we'll walk you through the advantages and disadvantages of various types of residential fences, assisting you to make a well-informed choice.
When residing in Southwest Florida, one must also consider the impact of hurricane-level winds on outdoor structures, including fences. Given the region's susceptibility to extreme weather phenomena like hurricanes, tropical storms, and tornadoes, it becomes pertinent to choose a fence material capable of resisting severe winds and other harsh conditions.
Wood Fences with Steel Posts:
Wood fences with steel posts are a popular choice among homeowners because they offer a natural and rustic look. Additionally, they can be customized and are cost-effective. They are also easy to install but come with some drawbacks, including requiring regular maintenance and having a limited lifespan. They are also prone to rot and decay, which can lead to costly repairs and replacement in the long run.
Wrought Iron Fences:
Wrought iron fences add an elegant touch to any property and are known for their durability and long-lasting qualities. They provide excellent security and require low maintenance compared to other fence types.
However, they can be expensive, heavy, and difficult to install. They also give a cold and impersonal appearance, which may not suit everyone's style.
Composite Board on Board Fences:
Composite board on board fences are made from recycled materials and offer a sustainable and eco-friendly option. They are resistant to weather and insects and require little maintenance, no need for painting or staining, and have a long lifespan.
However, they can be expensive and may fade over time. Moreover, their color options are quite limited.
Concrete Block and Masonry Fences:
Concrete block and masonry fences are known for their strength and durability, providing homeowners with excellent privacy. They also offer a wide range of design options and can be customized to match the surrounding architecture.
Calling these a "fence" is also kinda pushing it. They're more accurately a wall.
However, they can be quite expensive, heavy, and difficult to install. Their design options can also be limited, depending on the home's style.
Chain Link Fences:
Chain link fences are the most common and affordable option for homeowners. They are easy to install, durable, and allow air and light to pass through, which is perfect for people looking to demarcate their property lines with little disturbance to their outdoor space.
However, they offer little to no privacy, can be unattractive, and are not ideal for security.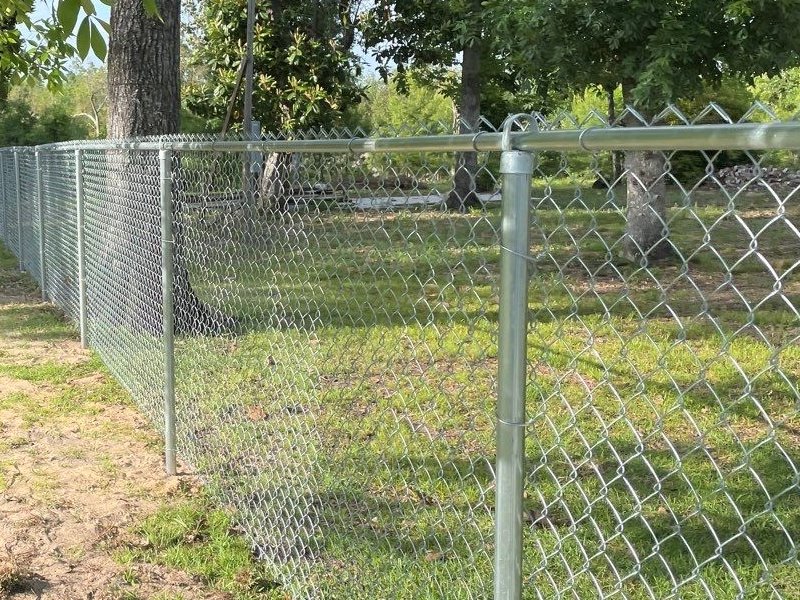 Vinyl Picket Fences:
Vinyl picket fences mimic the natural look of wood while providing more resistance to weather and insects. They are affordable, require little maintenance, and are known for their strength and durability.
However, they suffer from limited color options, and they can fade over time or crack or warp in extreme temperatures.
Aluminum Fences:
Aluminum fences are an excellent choice for homeowners who prioritize security and want a fence that requires minimal maintenance. They are lightweight, rust and weather-resistant, and provide excellent security.
However, they can be expensive and have limited design options. Moreover, they can be easily dented or damaged.
Finding the right fence for your property is an important decision that requires careful consideration. From wood to chain link to aluminum, there are a variety of options available depending on your needs and preferences.
No matter what type of fencing you choose, it's important to remember that proper maintenance will help ensure its longevity and protect against potential damage from weather or other external elements. At Culbertson Agency, we can provide coverage for fences of all types so you have peace of mind knowing your investment is protected if something were to happen in the future. Contact us today for more information about how our policies can safeguard your home's fence!